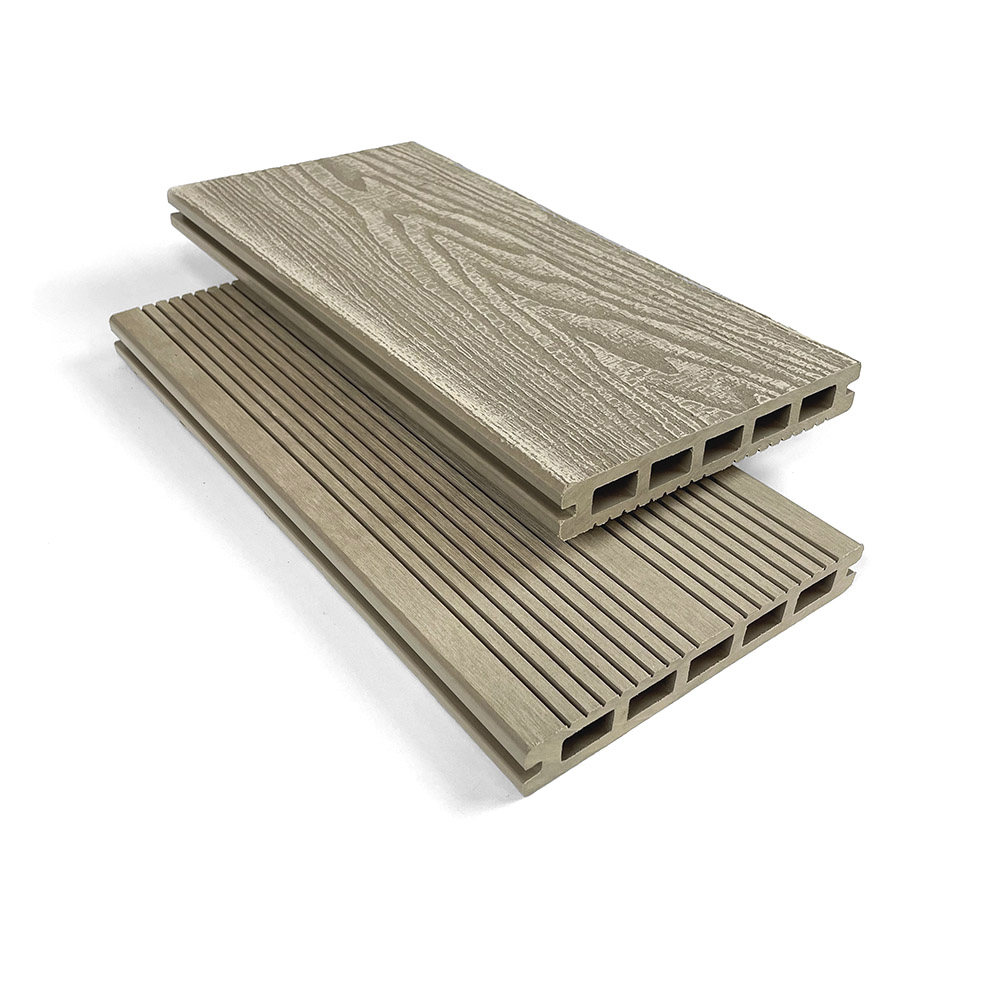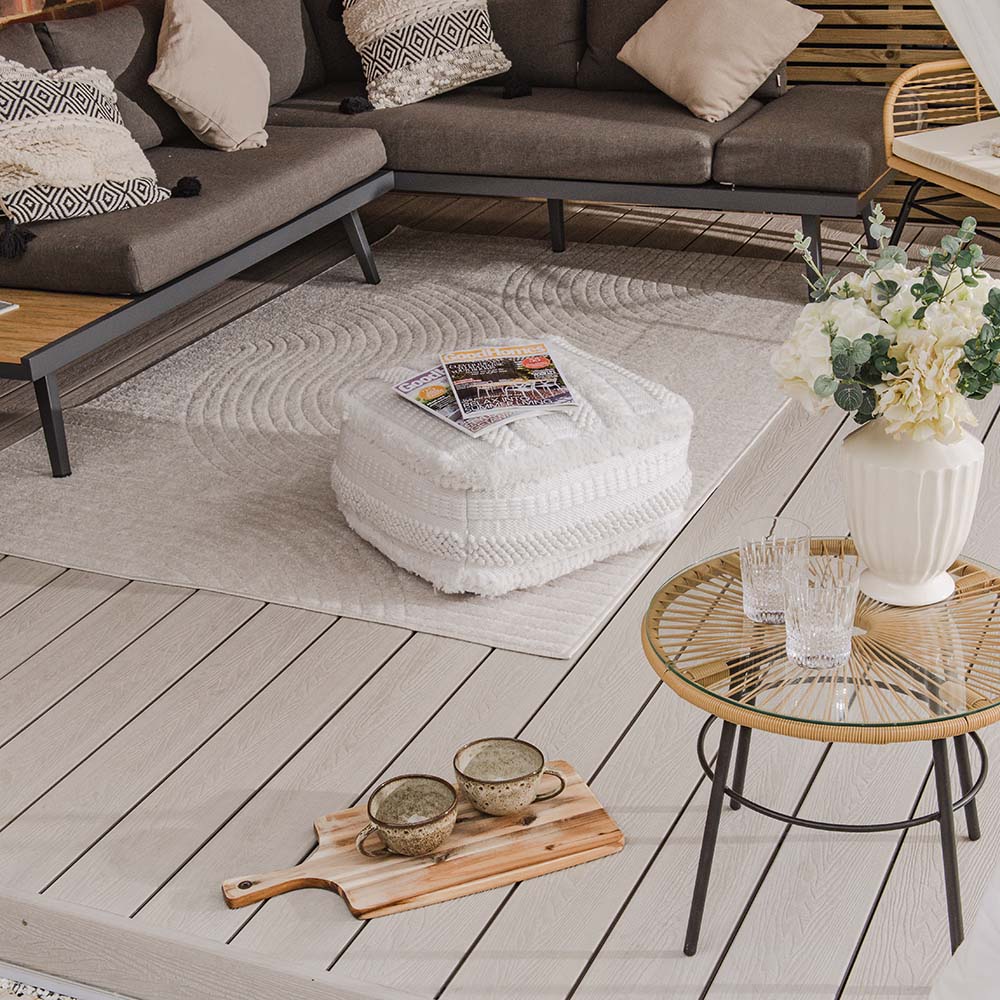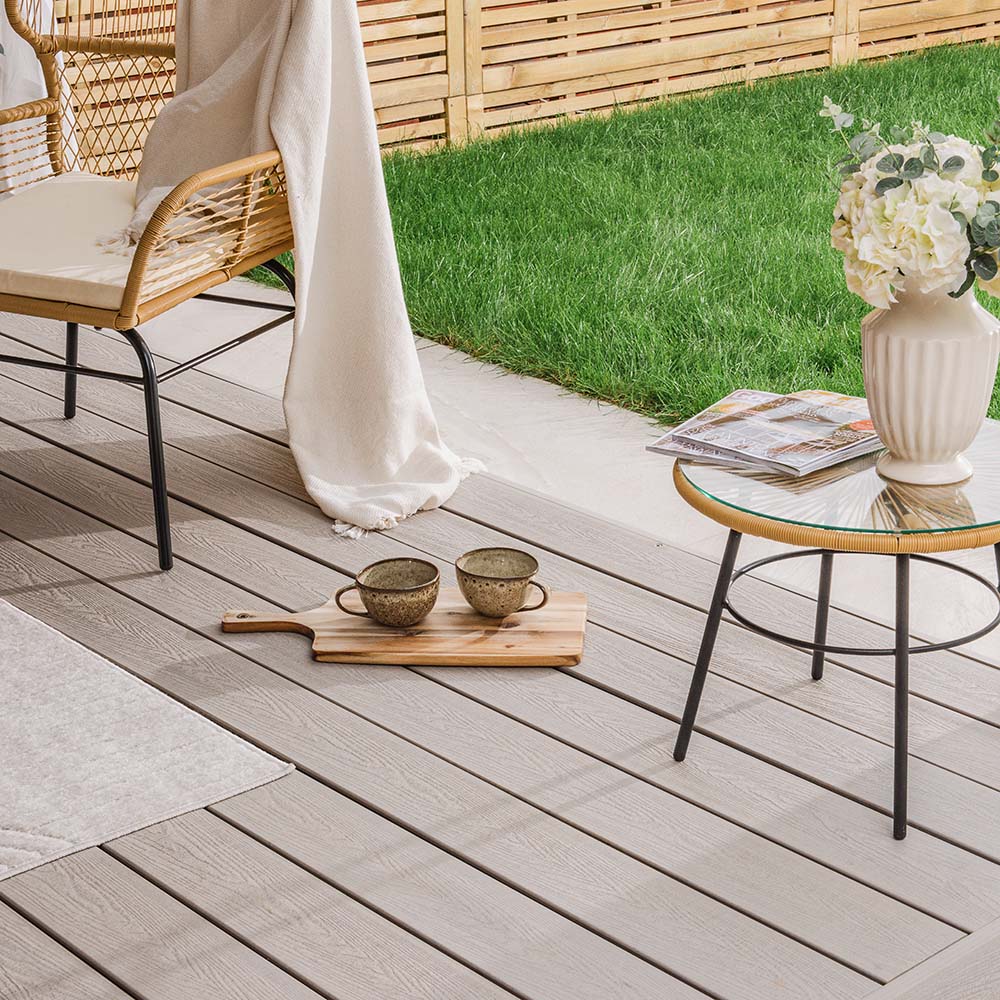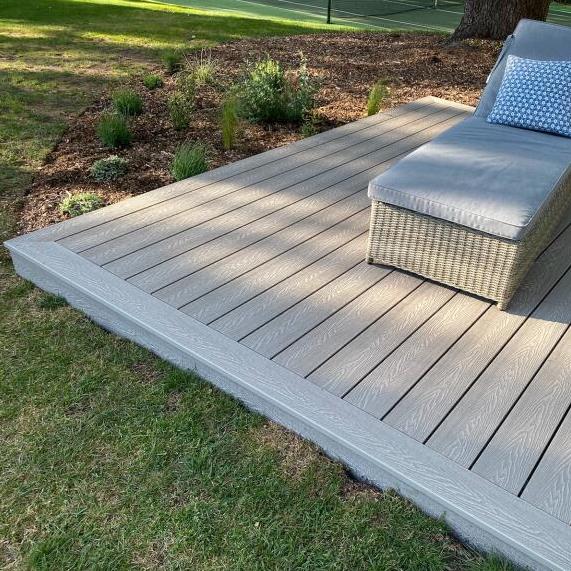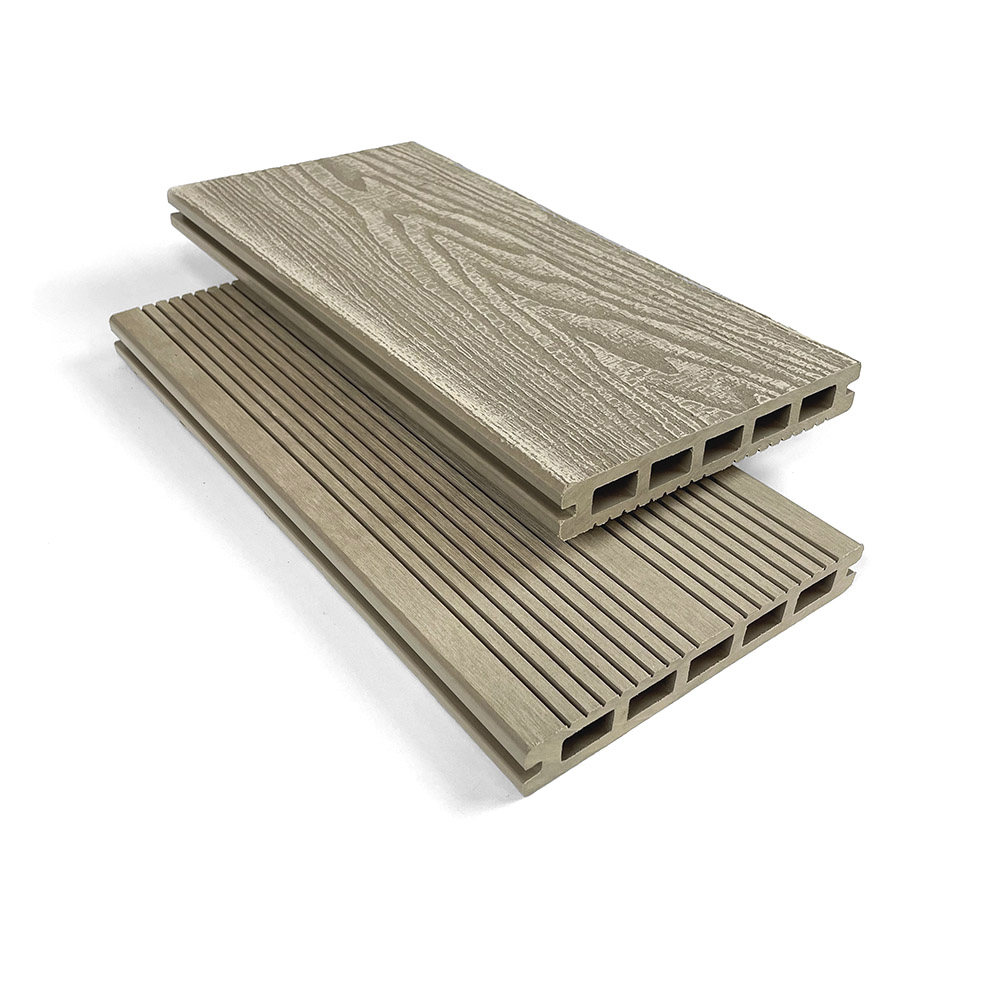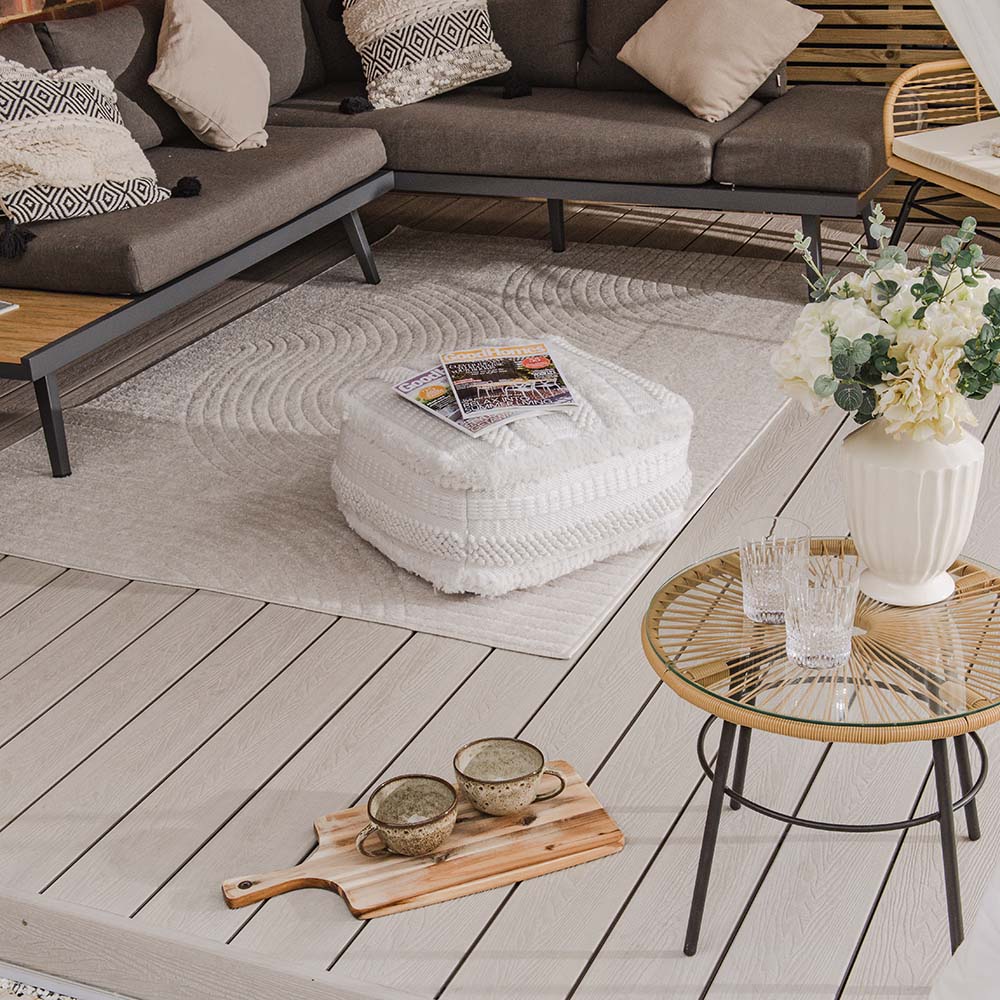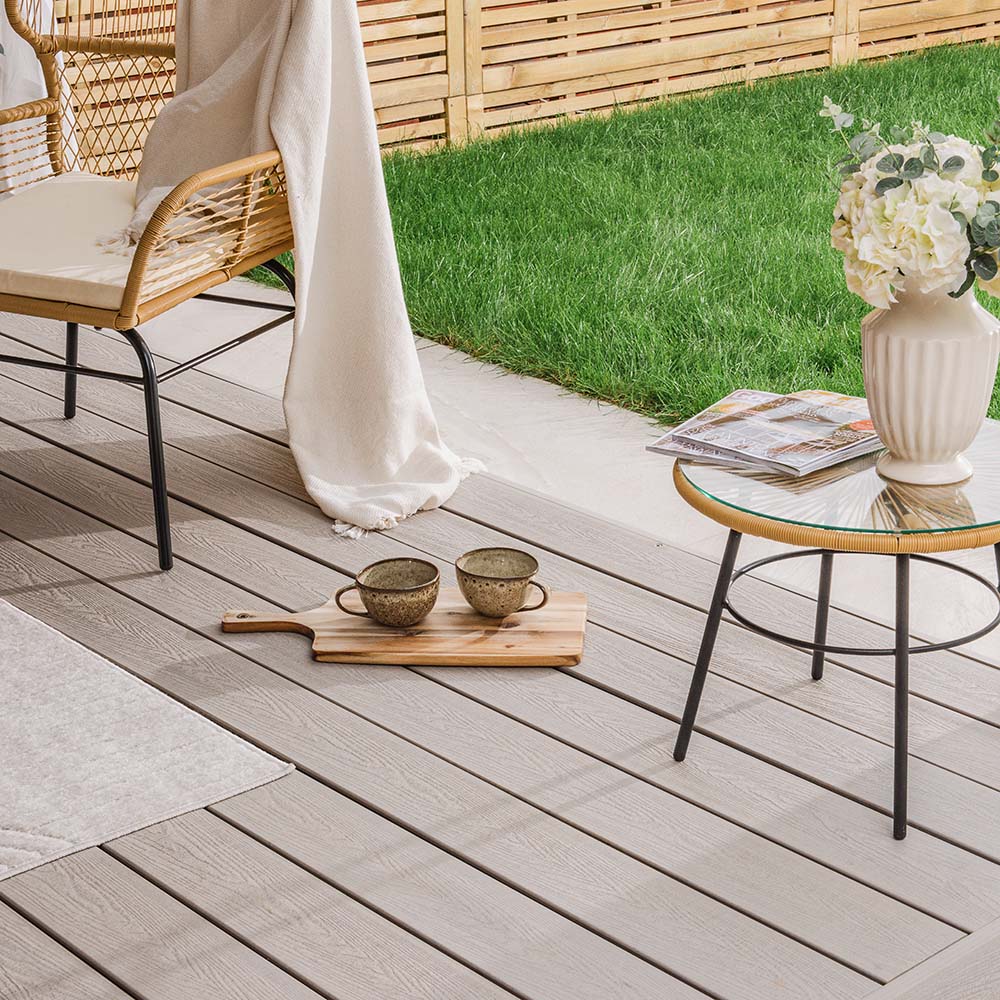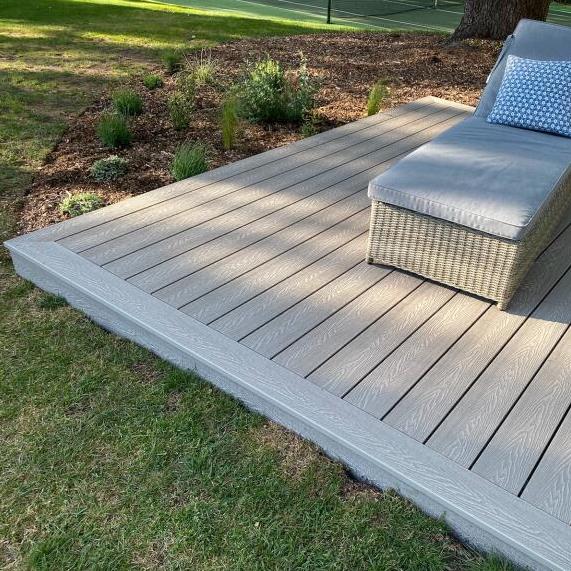 Enhanced range
Oyster Beige board – 3.6m
In stock
Enter your dimensions and let us calculate for you.
The Outdoor Look's Oyster Beige composite decking boards are a very popular light coloured composite decking on the UK market to date. These easy to install composite decking comes in three other shades, Silver Ash and Ignite Black. If you are looking for a light coloured composite decking that will wow your guests and family, providing you with a sleek, stylish composite decking space in your garden, look no further.
Key features
3.6m boards
22mm thick
146mm wide
6 wall honeycomb
Dual sided board
R11 Slip rating - BS 7976
Matching accesseries
3 colours
10 Year Guarantee
Samples available
Hidden fixing system (sold separately)
Please note as this product is a light colour the product will lighten significantly in the 1st year due to ultraviolet fade even though it is protected by an ultraviolet protection and as such we strongly advise that hot tubs or garden furniture are not left in situ for the first year until the colour stabilises.  Failure to do so may cause colour variation across your decking, that will take longer to match up.
Why not check out the other products in the
composite decking range
whilst you're here? The Outdoor look has provided a best practices guide for the storage and handling of the composite decking for before and during the installation process. This can be
read here
.
| Range | Enhanced | Deep Embossed |
| --- | --- | --- |
| Board Size | 3.6m | 3.6m |
| Board Width | 146mm | 146mm |
| Board Depth | 22mm | 25mm |
| Board Finish | Wood Grain & Grooved | Wood Grain & Grooved |
| Board Weight | 9.54kg | 9.64kg |
| Board Coverage | 0.5265m² | 0.5265m² |
| Dual Sided | Yes | Yes |
| Colours | 3 | 5 |
| Matching Trim | Yes | Yes |
| Square Edge Board | Yes | Yes |
| Hidden Fastening System | Yes | Yes |
| Material | Composite | Composite |
| Joist Span | 400mm (90") | 400mm (90") |
| Board Gap | 6mm | 6mm |
| Use | Domestic | Domestic & Light commercial |
What is the difference between the Enhanced range and the Deep Embossed range?
One difference is the thickness of the boards, the Deep Embossed boards are 25mm thick and the Enhanced are 22mm thick. The woodgrain is also different, it is a deeper embossed woodgrain on the Deep Embossed range and the Enhanced range has a twoway woodgrain design embossed into it, which is a little less pronounced. The Deep Embossed board is a bit strong too, although both suitable for commercial and domestic use.
How many colours do you do?
In the Enhanced range we have the Oyster Beige, the Silver Ash and the Ignite Black
Do you provide bullnose/square edge boards and trims?
Yes we do all the boards have avaialble square edge (bullnose) boards and trims avaialble to add to your order. We think that the square edge boards provide a much neater, seamless finish to a decking project compared to the L-shaped trims.
What does delivery cost?
The delivery is added to your order at the checkout it is calculated for you when you enter your delivery address. It is calculated based on your location and the size/weight of your order. Generally its about £120
If no delivery charge is provided we will need to provide you with an up to date courier charge. This will be due to you being out of our delivery range such as areas of Cornwall and Aberdeen etc.
Do you accept returns?
We do accept returns. The products must be returned to us at your own cost within 28days. It must be in its original packaging, unused and in perfect re-sellable condition. You must attach your name and order number to the box/s in order for the warehouse team to be able to assign the return to your order.  When it is received at the warehouse the team will check the items and inform as to if they are in good condition for us to action a refund.
Can you do a quote for me?
Yes, we can please email us at [email protected] with a rough sketch, your measurements and the board that you are interested in. The team will then pull a quote together based on this information for you.
How best to clean the decking?
We would recommend you jet was your decking every few months to keep it clean. it is also important to regularly remove debris and foliage from your decking as the tannins in plant foliage can cause discolouring on lighter boards, which can then take time to lighten.
Read our hand cleaning guide here.
Due to size and weight of product, there must be someone abled bodied to help unload vehicle. All deliveries must be signed for upon delivery. We will always call to book in orders before we load wagon and deliver in order to eliminate missed deliveries.
Delivery is calculated on order size on the shopping checkout page by entering your delivery details, you are able to check this out without completing a purchase. If a delivery cost does not come up, please contact us for a delivery quote.
All prices inclusive of VAT. Please contact us if you live in the following Postcodes, additional charges will occur – KW, IV, AB, PH, DD, BT. Delivery 5-7 working days.
Learn more